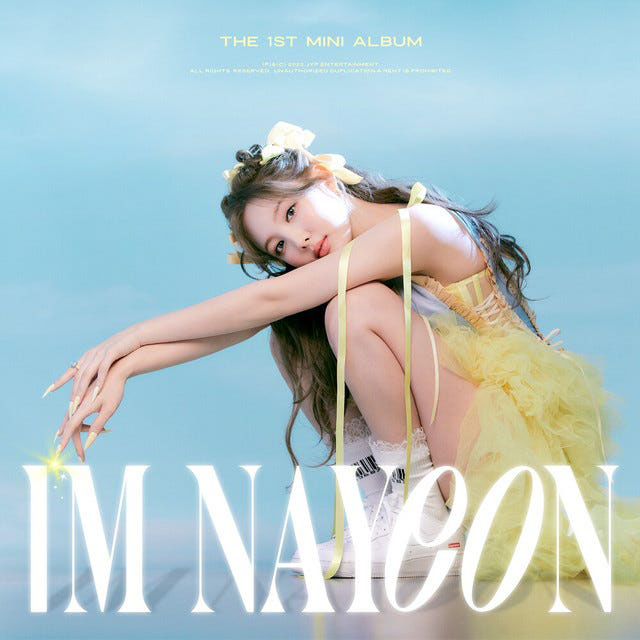 TWICE's Nayeon uplifts spirits with bright solo debut, "IM NAYEON."
I was not expecting NAYEON's (of K-Pop girl group TWICE) debut as a solo artist to be this strong. I've been enamored with most of TWICE's releases in the past few years, especially "FANCY," "Doughnut," and "I Can't Stop Me" (in which Nayeon has a heart-rending adlib, beginning at 2:45, that blows me away with its intensity), but it lives up to its already-enormous hype and sets the tone for one of the best releases this summer.
This could be NAYEON's summer.
Having watched NAYEON grow as a performer and artist over the years, and having attended the TWICE concert in Oakland back in February, I did not think of her as a strong singer. I thought of her more for her infectious smile, upbeat personality and stage presence. But here, in her debut solo album IM NAYEON, she demonstrates she has the strength and charisma to dominate the charts as a solo artist.
There are no weak songs in IM NAYEON. There are only good songs, and songs that are better than the rest. But even when they're all already comfortably solid in terms of the content of the music, one stands out.
Of course that song is "POP!", the lead single in the solo album.
"POP!" is a perfect summer song rivaling HyunA's (of 4Minute) 2011 breakaway hit, "Bubble Pop." It's infectious and gets your energy up every time you listen to it. It's filled with sugary sweetness and summer delightfulness.
The hook (pop pop, pop) is pure pop perfection. The staccato-like repeating blends perfectly with the brass instrumentation in the background, and its function, which is to remove some of the emotional intensity from the first chorus and bridge the first and second parts of the song, is executed well. It's already gotten stuck in my head a few times, and I'm even tempted to learn how to dance that part now.
My favorite line from "POP!" is at 1:19, when Nayeon goes: "Baby, you're out of control. So you're under my control." It's delivered without an ounce of self-suspicion, which is how I instinctively reacted hearing someone say "so you're under my control." My eyebrows definitely raised hearing that for the first time, as I don't like being under anybody's control, but then I thought, "Well if it's Nayeon… I guess there's nothing to complain about."
Moving on.
"NO PROBLEM," featuring Felix of Stray Kids, has Nayeon crooning on how there's no problem getting in the way of love when "you and I collide." "LOVE COUNTDOWN" features Wonstein, a South Korean rapper who has been making waves on the K-Pop circuit with appearances on heavyhitting K-Pop artists' releases (e.g. LeeHi and Epik High). I did not expect to see him on Nayeon's debut album, so I'm impressed by his feature, to say the least.
The album ends with "SUNSET," a ballad and the only slower-paced song on the album. The chords are enigmatic yet romantic, familiar yet unexpected. You could say that's what a sunset is like – they look the same, yet they feel different depending on where you are and who you're with.
Sunsets capture your heart and draw out your longing for a beautiful ending, no matter what kind of day you've had. That's what NAYEON'S solo debut album will do for you: it will take your heart and leave it feeling better than when you first listened.
Listen to IM NAYEON here.
Score: 10/10